Transcend SSD USB 3.0 External Solid State Drive - 1TB - TS1TESD400K - Black
See Details
Key Features
ESD400 Portable SSD
Faster & higher in capacities than ever before
Fit in your pocket
Perform the incredible
One touch to back up all files
Exclusive Transcend Elite Data Management
Delivery

City

Non-Bulky


Bulky



Regular Non-Bulky

Regular Bulky


KHI

1 - 2 Days

1 - 2 Days

1 - 4 Days

1 - 4 Days

LHR

1 - 3 Days

1 - 3 Days

1 - 4 Days

1 - 5 Days

ISL/RWP

1 - 3 Days

1 - 4 Days

1 - 4 Days

1 - 5 Days

Other

1 - 4 Days

1 - 4 Days

1 - 5 Days

1 - 6 Days

is available only for items with the Daraz Express Logo.

The above timeline refers to business days.

**The seller location is mentioned in the seller name on the website. If you are based in the same region as the seller, then delivery is generally 1-2 days faster than inter-city deliveries.

International orders will be delivered in 5 - 15 days. See Daraz Global for more info.

For more details about our delivery schedule click here.

Delivery until: 02-May-2018
Free return under conditions
ESD400 Portable SSD
The Transcend ESD400 USB 3.0 Portable Solid State Drive is equipped with a next-generation SuperSpeed USB 3.0 connection interface that supports USB Attached SCSI Protocol (UASP) and a high storage capacity of up to 1TB. Thanks to its lightweight, compact design and solid state durability, the ESD400 portable SSD makes it easy to store, protect, carry and share all your digital files wherever you go.
Share
Faster & higher in capacities than ever before
The ESD400 portable SSD boasts the next-generation SuperSpeed USB 3.0 interface that provides 10 times the bandwidth of USB 2.0. With the support of UASP, the ESD400 can significantly deliver faster performance. It makes file sharing easier and quicker than ever with blazing fast read and write speeds of up to 410MB/s and 380MB/s respectively. The super high capacity of 1TB allows you to save almost everything you need in it.
Fit in your pocket
In addition to offering faster speeds than standard portable hard drives, the Transcend ESD400 is also much smaller and lighter. Measuring just 92 x 62 x 10.5mm and weighing a mere 56g, the poker-sized ESD400 fits neatly in your pocket and even includes a handy travel pouch to protect the drive's sleek outer case against scratches during transport.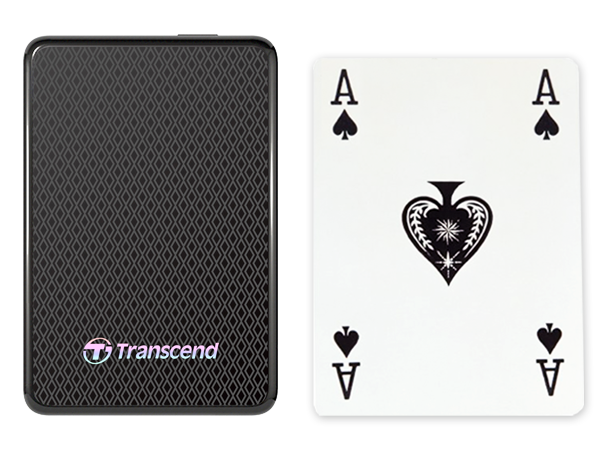 Perform the incredible
Taking full advantage of the solid-state storage technology, the ESD400 runs cool and silent, and can withstand excessive shock and vibration, giving you a most reliable data transfer experience.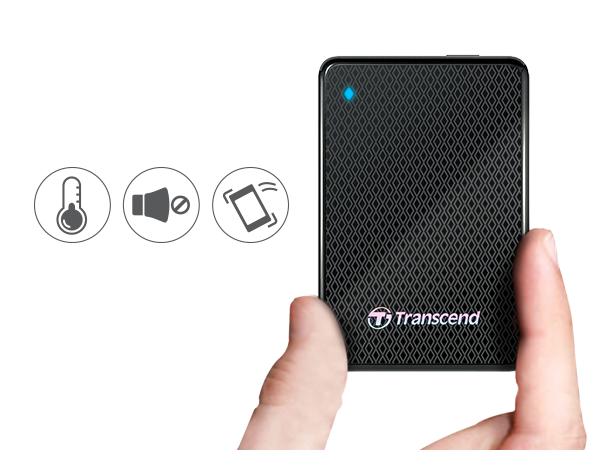 One touch to back up all files
The ESD400 is equipped with an extremely convenient One Touch auto-backup button for instant data backup and synchronization when used with Transcend Elite software.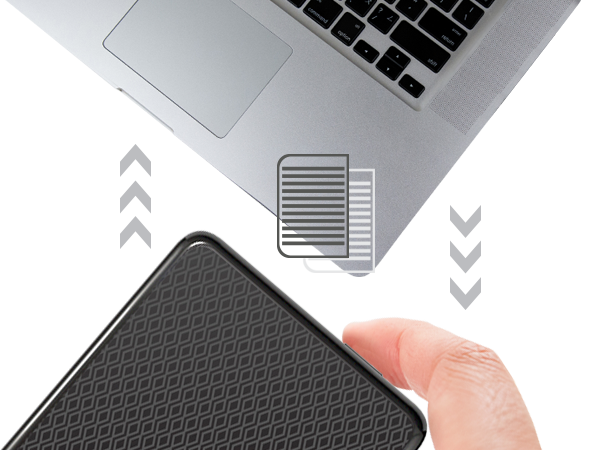 Exclusive Transcend Elite Data Management
For added value, the ESD400 includes a free download of the exclusive Transcend Elite data management tools that help you manage data and increase productivity. When paired with Elite, your Transcend storage device makes it easy to keep important files organized, protected and up-to-date.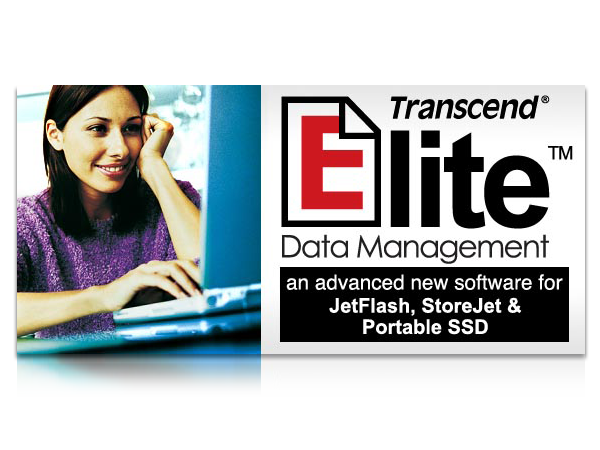 Specifications
Dimensions
92mm x 62mm x 10.5mm (3.62" x 2.44" x 0.41")
Weight
56g (1.98oz)
Storage Media
MLC NAND flash memory
Connection Interface
USB 3.0 (backwards compatible with USB 2.0)
Operating Temperature
0°C (32°F) to 70°C (158°F)
Operating Voltage
DC 5V
Certificates
CE, FCC, BSMI
Warranty
3 years (The 3 years warranty does not apply when SSD Scope's wear-out indicator shows 0% within 3 years)

Please access

Key Features

ESD400 Portable SSD
Faster & higher in capacities than ever before
Fit in your pocket
Perform the incredible
One touch to back up all files
Exclusive Transcend Elite Data Management
One Touch Auto-Backup Button
Ultra-portable, about the size of a playing card
Free download of Transcend Elite data management software
SuperSpeed USB 3.0 and USB 2.0 connection options
Connection bandwidth up to 5Gbits per second
Memory : 1TB

What's in the box?

1 x SSD USB 3.0 External Solid State Drive - 1TB - TS1TESD400K - Black1 x Cable1 x Guide

5 Stars

4 Stars

3 Stars

2 Stars

1 star

7 Days Replacement Only

If your product is defective / damaged or incorrect / incomplete at the time of delivery, then call our customer service on (+92) 21-111-132-729 to log a replacement request within 7 days of delivery. For device-related issues after usage please contact the service center listed on the warranty card included with your product or alternatively check our Brand Contact List for more details.

This product is not eligible for a replacement if the product is "no longer needed". "No longer needed" means that you no longer have a use for the product / you have changed your mind about the purchase / the size of a fashion product does not fit / you do not like the product after opening the package.

Conditions for Returns

The product must be unused, unworn, unwashed and without any flaws. Fashion products can be tried on to see if they fit and will still be considered unworn.
The product must include the original tags, user manual, warranty cards, freebies and accessories.
The product must be returned in the original and undamaged manufacturer packaging / box. If the product was delivered in a second layer of Daraz packaging, it must be returned in the same condition with return shipping label attached. Do not put tape or stickers on the manufacturer box.
Before returning a mobile / tablet, the device should be formatted and screen lock should be disabled. The iCloud account should be unlocked for Apple devices.

If a product is returned to us in an inadequate condition, we reserve the right to send it back to you.

To learn more about how to return your product click here.