Samsung 24HPFSD - Split Air Conditioner - 2.0Ton - 24000Btu - Heat And Cool - White
See Details
Key Features
CapacityCapacity (Cooling, Btu/hr)24,000
Capacity (Heating, Btu/hr)240,00
Capacity (Heating, kW)7
Capacity (Cooling, kW)7
Capacity (Cooling, Kcal/hr)6,048
Capacity (Heating, Kcal/hr)6,048
Seller Score :

2.7 / 5

Selling on Daraz:

10 months

---

Delivery

City

Non-Bulky


Bulky



Regular Non-Bulky

Regular Bulky


KHI

1 - 2 Days

1 - 2 Days

1 - 4 Days

1 - 4 Days

LHR

1 - 3 Days

1 - 3 Days

1 - 4 Days

1 - 5 Days

ISL/RWP

1 - 3 Days

1 - 4 Days

1 - 4 Days

1 - 5 Days

Other

1 - 4 Days

1 - 4 Days

1 - 5 Days

1 - 6 Days

is available only for items with the Daraz Express Logo.

The above timeline refers to business days.

**The seller location is mentioned in the seller name on the website. If you are based in the same region as the seller, then delivery is generally 1-2 days faster than inter-city deliveries.

International orders will be delivered in 5 - 15 days. See Daraz Global for more info.

For more details about our delivery schedule click here.

1 - 6 business days

Warranty

Brand Warranty Five Year Compressor one year parts. 
Free return under conditions
5 Stars

4 Stars

3 Stars

2 Stars

1 star
Easy to Take Out and Clean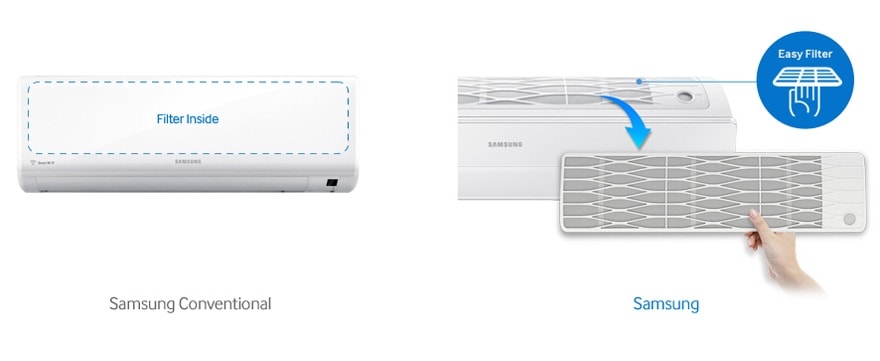 Unlike conventional filters that are often difficult to access, the Samsung Air Conditioner's Easy Filter is located outside, on the top. So it can easily be taken out, cleaned and put back – without having to open a cover or pull hard to get it out. And its anti-bacterial coating filters dust, dangerous airborne contaminants and allergens.* * Tested in Korea test lab (FITI / KEMTI) and Japan test lab (ITEA). Data has been measured under specific testing conditions and may differ based on environmental factors.
Easy Troubleshooting

The Samsung Air Conditioner includes Smart Check, an automatic error-monitoring system. It detects and diagnoses problems at an early stage and provides quick and easy troubleshooting solutions using a smartphone App*. So it saves you time having to find the manual and avoids the cost and inconvenience of unnecessary engineer callouts** – and potentially expensive repair bills. * Available on iPhones and Android devices. ** This function operates for certain error mode only and is not substitute for periodic service checkup.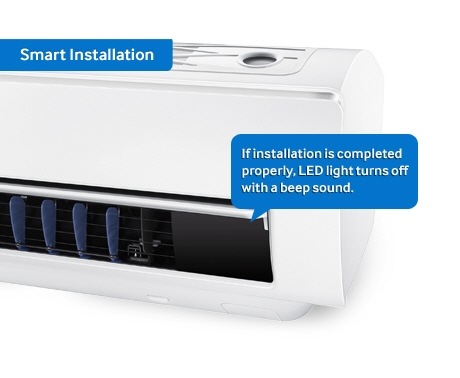 Ensure Perfect Installation
Smart Installation is a self-diagnosis feature that ensures your Samsung Air Conditioner is installed perfectly by your service engineer. It automatically checks for installation faults that can cause problems when using the air conditioner, including ineffective communication with the outdoor unit, any issues with the integrity of the air pipe and poor refrigerant flow.
Key Features
CapacityCapacity (Cooling, Btu/hr)24,000
Capacity (Heating, Btu/hr)240,00
Capacity (Heating, kW)7
Capacity (Cooling, kW)7
Capacity (Cooling, Kcal/hr)6,048
Capacity (Heating, Kcal/hr)6,048
Energy EfficiencyEER (Cooling, W/W)2.69
COP (Heating, W/W)2.94
EER (Cooling, Btu/hW)9.2
Noise LevelNoise Level (Indoor, High/Low, dBA)43/33
Noise Level (Outdoor, High/Low, dBA)55
Electrical DataPower Source(Φ/V/Hz)1Φ / 220 - 240V / 50Hz
Operating Current(Heating, A)11.2
Power Consumption(Heating, W)2,390
Power Consumption(Cooling, W)2,610
Operating Current(Cooling, A)12.2
Physical specificationNet Dimension (Indoor, WxHxD, ㎜*㎜*㎜)1,063 x 294 x 317mm
Net Dimension (Outdoor, WxHxD, ㎜*㎜*㎜)880 x 648 x 310mm
Gross Weight (Indoor, kg)15.8kg
Gross Weight (Outdoor, kg)55.0kg
Net Weight (Indoor, kg)13.7kg
Net Weight (Outdoor, kg)51.5kg
Piping Length (Max, m)20
Piping Height (Max, m)8
SVC Valve (Liquid (ODxL))6.35
SVC Valve (Gas (ODxL))15.88
Moisture Removal (l/hr)2.4
Air Circulation (Cooling, ㎥/min)18.6
Low Ambient (Cooling, ℃)15 - 52
Low Ambient (Heating, ℃)-5 - 24
Outdoor Unit (Compressor Type)Rotary
Outdoor Unit (Anti-Corrosion Fin)Yes
Outdoor Unit (Multi-Channel Condensor)Yes
Refrigerant (Type)R22
Optimal Single BladeYes
Air Direction Control (Up/Down)Auto
Air Direction Control (Left/Right)Manual
Air Flow Control Step (Cool/Fan)4 Steps
Air Purification
Auto Clean (Self Cleaning)Yes
Virus DoctorNo
Easy filterYes
What's in the box?
1 x Split Air Conditioner - 2.0 Ton - White1 x Outdoor Unit1 x Remote Controller.1 x Manual1 x Warranty Card
SKU (simple)
SA609HL150FQSNAFAMZ-1917236
Warranty
Brand Warranty Five Year Compressor one year parts.
7 Days Replacement Only
If your product is defective / damaged or incorrect / incomplete at the time of delivery, then call our customer service on (+92) 21-111-132-729 to log a replacement request within 7 days of delivery. For device-related issues after usage please contact the service center listed on the warranty card included with your product or alternatively check our Brand Contact List for more details.
This product is not eligible for a replacement if the product is "no longer needed". "No longer needed" means that you no longer have a use for the product / you have changed your mind about the purchase / the size of a fashion product does not fit / you do not like the product after opening the package.
Conditions for Returns
The product must be unused, unworn, unwashed and without any flaws. Fashion products can be tried on to see if they fit and will still be considered unworn.
The product must include the original tags, user manual, warranty cards, freebies and accessories.
The product must be returned in the original and undamaged manufacturer packaging / box. If the product was delivered in a second layer of Daraz packaging, it must be returned in the same condition with return shipping label attached. Do not put tape or stickers on the manufacturer box.
Before returning a mobile / tablet, the device should be formatted and screen lock should be disabled. The iCloud account should be unlocked for Apple devices.
If a product is returned to us in an inadequate condition, we reserve the right to send it back to you.
To learn more about how to return your product click here.